White Coconut Cupcake, Cream Cheese/Coconut
topping
Hi Guys!! It's been a while since I've been on here.
I got caught up with trying to put up another business
and family matters. Missed updating my page and
finally made the time to get it done and visit my friends
in blog land!
What kind of business you ask? Umm, yeah..you
guessed right, Baking Cupcakes..So it's not as easy
as I thought it was going to be. But I'm going through
with it still because it's something I love to do and
it makes me happy. Another thing is, I'd love to
share it with my kids and pass it on to them. Check
out the new logo I've been working on. We also
have a new page up for it as well
here
.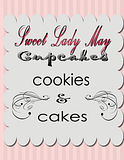 I'm currently trying to get licensed to sell to the
public and all that legal stuff. Other than that it's
trying to deal with my teenagers and their attitudes.
My 16 dd has recently become rebellious and has
been stressing me lately. The past 4 days has
been real crazy for all of us. So far she's run away
and hid out at her friends house, because she
thinks they do more fun things there..than we do
at home and she'd rather live there.
I'll admit $$ is tight here as I'm trying to get
this stuff going here and getting them back in
to school. So it hasn't been easy, but I know
one of these days we'll look back at it and know
it was just part of the path to a better future.
This morning I woke at 4 am to give my thanks
and had a heart to heart with my older girls and
ironed things out with a hug and prayer.