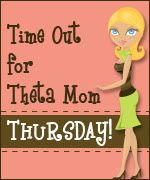 If you're new to "Time Out for
Theta Moms Thursday" and would like
to join in on the fun, It's about
setting a goal to set aside one hour
of time within a week to do whatever
you want, without the kiddies.
So on Thursdays you can post what
you did with your hour of "me" time
on Heather's page with a link back
to your blog, so that other moms
can see what you did with hour of
free time. Great way to meet more
moms and friends!

go here to read more.....