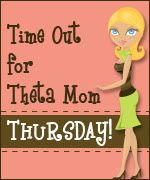 Okay, so I've finally gotten a chance to get
my 4 year old to bed and get back to blogging.
Lately I've just been feelin really tired and
just want to get the relaxing part.
But with the kids being sick these past few
days it's been hard and I did decide to
join AVON and become a sales represen
tative while still caring for my young ones at
home.
I got interviewed by Barbara last Saturday
morning and filled out my application to
start with them. I'm pretty excited and just
hope for the best..I'm expecting 100
brochures in the morning.. and my friend
Kathleen gave me all her leftover supplies
from her AVON Leadership stuff to use:)
I found out on Tuesday night that I am
now an AVON sales rep and hope to
work my way up to leadership. I am
really looking forward to what's ahead
and passing out those brochures.
with that said, I'm going to and relax
with a $7.50 double dvd box I grabbed
at Walmart this evening. I've never watched
Joe Black before..heard it's good..
How was your
Theta Mom Thursday
?
Head over there to see what other moms
are doing.