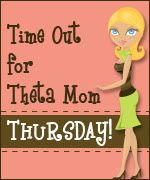 join in on the fun, It's about setting

a goal to set aside one hour of time

within a week to do whatever you

want, without the kids. So on Thursdays

you can post what you did with your

with a link back to your blog, so

that other mom's can see what you

did with your hour of free time.

I know I'm posting this late but I finally got caught up
on my "me" time on Friday night. Putting together a
diaper wreath for my baby nephew, Elijah. I love doing
crafty things that helps me to relax and unwind after a
busy day with the kids. I usually unwind with a book or
good walk.
Here's a pic. of what I made. The boy medallions were
created with my awesome new cricut expressions that
I've been waiting to put to use:)
How did you spend your "me" time?
Check out these other fabulous mamas at Theta Mom's
page on how they spent their time!