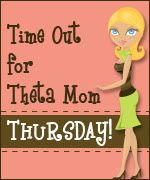 Ok, I've been hearing my good friends Sinai
and Silia talking about their fun adventures
in Zumba fitness and decided to try it out

with my 5 yr. old daughter this morning and

all I can say is that we had tons of fun and

a bit of belly aches but laughed our way thr

ough the routines and different videos on

I was laughing at the end when

my 5 yr. old said to me.."look mommy, I

think your tummy is starting to shrink!"

and I started chuckling and said, yes, Nesi

that's my goal this year..shrink my tummy!

Looks like we're going to do several of these

to get there:) Gotta love kids:)


Want to know what other Theta Moms are

doing today? Check out Heather-Theta Mom's

page for more details and join the fun!!